Kotan - Tiger grain (Rikyu Chopsticks-Non-slip Finish)
KOTAN

- Tiger Grain (Rikyu Chopsticks-Heptagon)
(Non-slip Finish)
Non-slip finish of chopsticks makes it easier to pinch
It is finished with powder crushed lacquer to the slip stop of the tip of chopsticks,
it became easier to pick up food.
Recommended For Restaurants
Non-slip finish of chopsticks protects the tip of chopsticks in addition to the effect of slip prevention, and makes chopsticks last longer.
It is recommended for restaurants that wash frequently every day.
The tiger grain is very rare grain in all wood.
We call it KOTAN. KOTAN means that Ebony Wood of Tiger.
Please enjoy meal with this rare Tiger Grain.

About Rikyu Chopsticks (Heptagon)

The streamline is beautiful.

so when you take the chopsticks you feel your hand more beautiful.

Chopsticks grasp by three fingers that is odd number,

so Heptagon(7 angles) is best fit angles to grasp chopsticks!

These chopsticks shaves Heptagon from bottom to 1mm(0.03inches) of tip point.

And bottom shaves thin than hand grip point so It's makes beautiful body line.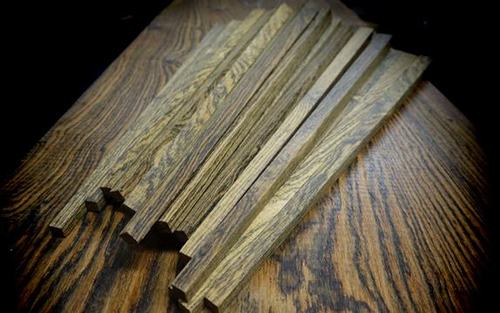 Raw wood of Kotan
Details

Size:9.2inches=23.5cm, 9.8inch=25cm
Wood: Bocote
Surface finish: Japanese lacquer (natural)
Craftsman: Daikokuya
Made in Japan
Kotan - Tiger grain (Rikyu Chopsticks-Non-slip Finish)
Our Selling Price: US$159.00